We are very pleased to announce our involvement with the Government sanctioned Download Pilot Event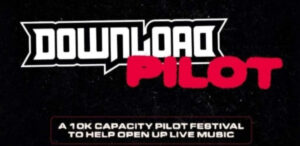 Download Pilot will be a 10,000 capacity camping festival in Donington Park on 18th – 20th June, featuring a line up of DL faves to be announced.
All attendees will have been tested before entry, meaning Downloaders will be able to rock out without a mask or social distancing.
With an audience of 10,000 and limited space it has been an extremely difficult task to determine which traders will receive an offer to trade. Around 10 pitches have been allocated, we would have loved to offer more but it just isn't possible.
We are now definitely looking forward to Latitude, Bloodstock, Leeds and Reading taking place without a reduction in audience levels.  
With demand sky high following release from lockdown, we can look forward to sell-out crowds.  There will be changes to events – organisational and layout changes – to ensure the lessons learned from the trial events are implemented and public, performers, staff and traders can enjoy the festivals in as safe an environment as possible.
Apart from Download Pilot (which has limited numbers of traders) applicants who were offered a site for 2020 events will be offered a site for 2021. Any such applicants will be considered before we seek replacements.
We are working on a shortened timescale so it is more important than ever that if you receive an offer to trade, be sure to respond promptly to ensure we don't allocate your pitch to someone else.
We look forward to seeing in a field this summer!
Applications for 2021 events remain open.
To apply for events in 2021 you must create a user account with us, click on the "Account" button and then choose "Create Account" and fill out the form, please read through our terms and conditions to make sure you are willing and able to comply.
Submit your application and after your registration has been approved you will be able to login to the Account page and apply for the events listed. 
Feel free to apply for as many or as few events as you like, please make sure the information you provide in your account is accurate, especially the size of your stall and the list of products you wish to sell.
Food traders please note: It is important that you fill in the Registering Authority on the application form and upload your documentation, without these we will be unable to offer you a site.
*Bar Operators please note: We do not accept applications for bar concessions*
We look forward to receiving your applications! Be sure to check out our terms and conditions of trading and faq's.
Please make sure to add our email address to your "Safe Senders" list to ensure you receive the emails we send out.
From time to time we may send out information via Facebook and Instagram please follow us on these social media sites to make sure you receive any info we send out.
Dick, Andy, Sue and Ian
27th May 2021